Dry Red Chilli Exports from india
It is a well-known fact that India is the largest dry red chilli producer and exporter in the world and one of the core places of chilli production and export in the country is Guntur that lies in Andhra Pradesh, in the southern belt of India. Dry Red Chillies are sourced from the Farms Directly. These chillies are fresh and best products that are available in the World. Major chilli exports in the world happens from Guntur, Andhra Pradesh. We have Chilly with Stem, Chilly Stem less, and Byadgi Chilly.
We purchase dry red chilli all around the India and storage it at optimum temperature for its long life ,to provide our valued customer round the year according to their requirement. We processing and grinding the chili at our factory under our inspection so that each chili (whole) handles by our worker's hand. We are focused on maintaining quality and it's hygiene with international standards to cop up with national and international demand.  We continually strive for customer satisfaction and value creation for the products.
Also Looking for Turemric Fingers? Click Here to know more about this.
Usage and Benefits of Dry Red Chillies
Dry chilli is extensively used as spice in curried dishes. It is also used as an ingredient in curry powder and in seasonings. Bird chilly is used in making hot sauces as pepper sauce and Tabsco sauce. Paprika, Bydagi chilly, Warangal chapatta and similar high colour less pungent varieties are widely used for colour extraction. This colour is highly popular among food and beverage processors for its use as a colourant, since this being a 'natural plant colour'. As a medicine it is used as an counter irritant in Lumbago, Neuralgia, and Rheumatic disorders.
Capsicum has a tonic and carminative action. Taken inordinately it may cause gastro-enteritis. The enzyme isolated from chilly is used in the treatment of certain type of cancers. Oleoresin capsicum is used in pain balms and vaporubs. Dehydrated green chilly is a good source of vitamin 'c'
Varieties of Chillies available with us
1) s17/Teja (Shu 75000-100000)
2) Endo 5 (shu 35000- 45000)
3) 334/S4/ Guntur Sannam ( shu 25000-30000)
4) 273/ wrinkled (Shu 16000 -20000)
5) Byadgi (Shu 8000-15000)
6) Red pepper Flakes (Shu 8000-90000)
7) Chilli Powder (Shu 9000-80000)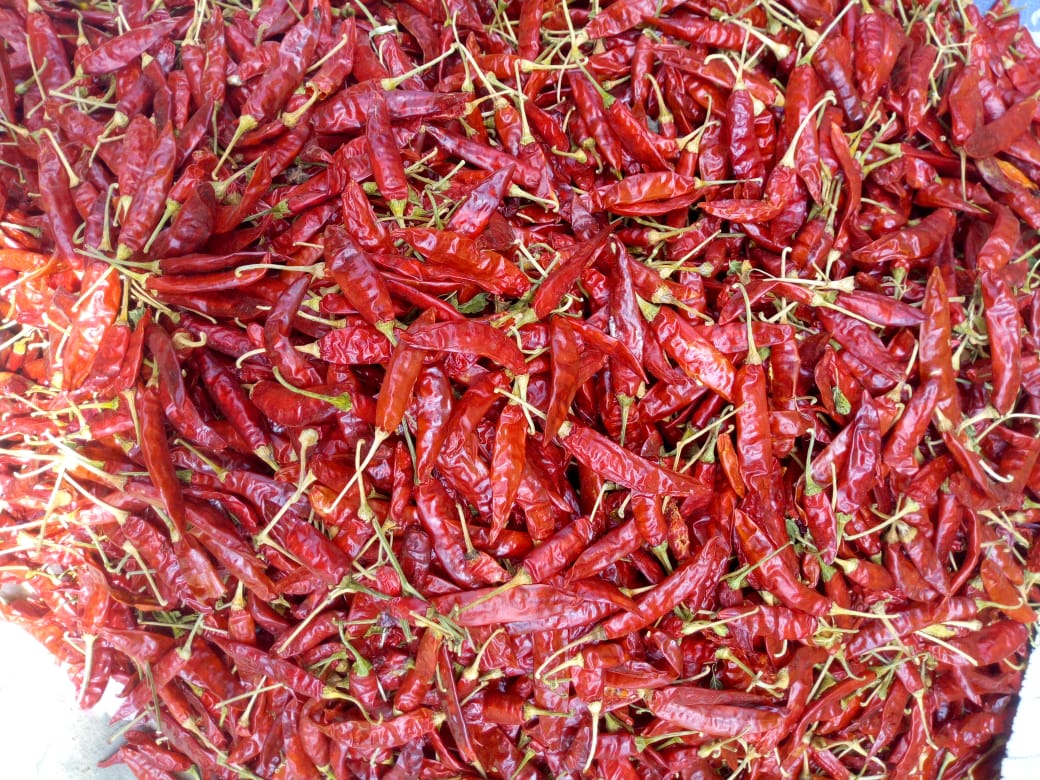 New Jute Gunny Bags / As per the client requirement.
14 Metric Tones (1×40 FT Container).
1) 334/S4/S10/Guntur Sannam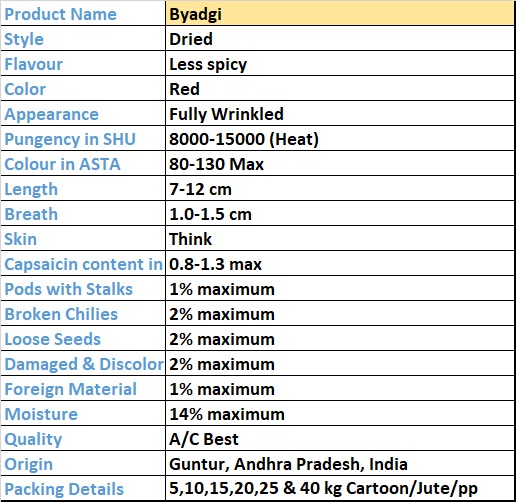 5) Endo/ Dry red chilli no 5